March 3, 2002, Boston Globe, DRIVING A WEDGE:
Why bin Laden plot relied on Saudi hijackers
, by Charles M. Sennott, Globe Staff, 3/3/2002
First of three parts

AIF, Saudi Arabia - The road cuts across southwest Saudi Arabia, its tribal culture, desert wilderness, and bleak patches of development that missed out on the oil-rich kingdom's largesse.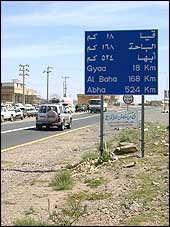 Highway 15 cuts through southwest Saudi Arabia, a region bubbling with economic frustration and Islamic puritanism. (Globe Photo / Charles M. Sennott)
_____________________________________________________________________________
DRIVING A WEDGE
Bin Laden, the US, and Saudi Arabia
PART 1:

Why bin Laden plot relied on Saudi hijackers

Before oath to jihad, drifting and boredom for hijackers
PART 2:

Saudi schools fuel anti-US anger
PART 3:

Doubts are cast on the viability of Saudi monarchy for long term

Coverage of the war on terror
_______________________________________________________________________________
Engineered in the late 1960s by Mohammed bin Laden, patriarch of the family's construction empire, this two-lane highway was his pride in a life of service to a monarchy trying to build a nation out of the Arabian sands.
But to his exiled scion, Osama bin Laden, this road stretched into the Saudi heartland of isolation, boredom, economic frustration, fiery Islamic puritanism, and the mounting rage of its disaffected middle-class youth - fertile soil for recruits to his Al Qaeda terror network.
Along this narrow and treacherous highway, US and Saudi officials say, bin Laden and Al Qaeda saw a way to drive a wedge through the fragile US-Saudi relationship - and steer home the point that the Sept. 11 strikes were as much an attack on the House of Saud and its alliance with the United States as they were an attack on America itself.
Twelve of the 15 Saudis among the 19 hijackers who carried out the terrorist strikes came from the leading tribes in the provinces that straddle this highway.
Senior US officials and Saudi Interior Ministry officials involved with the investigation into the involvement of Saudi nationals in the attacks say they now believe bin Laden's Al Qaeda actively sought out young Saudi volunteers from this region for their "jihad."
The investigation is beginning to reveal a picture of how bin Laden, a native of the Saudi southwest, exploited the young hijackers by playing off the region's deep tribal affiliations, its economic dis-enfranchisement, and its own burning brand of Wahhabi fundamentalism which the kingdom's religious hierarchy fosters in the schools.
The path to understanding this culture which bore the hijackers - almost none of whom had any deep links to Islamic militant movements much before Sept. 11 - lies somewhere along this road. On maps it is "Highway 15," but to Saudis it is commonly known as "The Road of Death." Stretching south from the lowlands around Mecca into Taif and the woodlands of Al Baha province, and then climbing up to the mountains of Asir, it is considered the most dangerous road in a kingdom which officials say has an extraordinarily high rate of fatal car crashes. Highway 15 alone claims hundreds of lives every year, and thus its name.
It has become known as a strip of asphalt where disaffected, middle-class Saudi youth climb into large American-manufactured Buicks and Chevrolets and race at speeds over 120 miles per hour. They say it is a way to vent their rage against the limited economic opportunities in the kingdom as well as the crushing boredom and confining strictures of life under Saudi puritanism.
Bin Laden, it seems, provided the inspiration for at least 12 of the alienated young men from this area to find a far more apocalyptic way to express that rage.
In selection of hijackers, bin Laden's 'fingerprint'
Dr. Said Al Harthi, a senior adviser to Saudi Interior Minister Prince Naifbin Abdul Aziz Al-Saud, said, "We believe that bin Laden may well have tried to put a Saudi face on this attack, knowing that it would damage our relations with the United States ... We believe this was his intent."
Harthi said the use of the Saudis and the selection of the hijackers from leading tribes in the southwest revealed what he called "a fingerprint that is bin Laden's" in the Sept. 11 attacks.
Specialists on bin Laden such as Milton Bearden, who headed the CIA's covert operations in Afghanistan during the 1980s when bin Laden was leading Arab volunteers to fight "jihad" there, noted that bin Laden's original and still preeminent goal is to rid the US military presence from Saudi Arabia.
Bin Laden refuses to recognize the House of Saud, asserting that the monarchy and the religious establishment which supports it, have both lost their legitimacy by permitting 5,000 US troops - "infidels" as he calls them - to occupy the land of the sacred Islamic holy sites, Mecca and Medina. Bin Laden's goal in making the terrorist attacks a mission carried out almost exclusively by Saudis, US and Saudi officials say, was to focus attention on the relationship between the two countries and force Washington and Riyadh to reconsider the US troop presence here.
But Al Harthi quickly adds, "If he thought this would tear the US and Saudi Arabia apart he was wrong. The American media is attacking us, but within Saudi Arabia there is a new cohesiveness and in our dealings with Washington there is knowledge that we are working closely together on this investigation."
A high-level Western diplomat was more pessimistic in his assessment. "Bin Laden knew exactly what he was doing. It looks to us like a deliberate effort to pick up Saudis for this operation, some in Afghanistan, some on their way to Chechnya, anywhere he could find them," said the diplomat who has had access to the ongoing investigation into how the conspiracy came together, and asked not to be identified.
"There were simple reasons for this. They were the ones who could get visas easily to the United States, and there were a lot of Saudis involved in flight training in America. So there was a pathway laid out for them," said the diplomat.
Thirteen of the 15 Saudi hijackers were issued visas to the United States, 10 of them at the US Consulate in Jeddah, according to US officials. Their applications were indistinguishable, officials said, from the thousands of young Saudis permitted to go to the US every year. Only two of the 15 showed up on a security-risk list from Malaysian intelligence that was disclosed to US authorities only after the hijackers had entered the country in July, US officials say.
"Now you can believe we are rethinking our visa policy," one diplomat said.
"The hardest thing for us to face is that if bin Laden's goal was to divide the US and Saudi Arabia, then on some level the terrorism worked.... You can't deny that, if you look at how it has driven a wedge, forcing us to ask the wrong questions, to be more wary of each other," the diplomat added.
So far, little has been disclosed about the Saudi hijackers. That, many observers suggest, is because both Riyadh and Washington have deliberately downplayed the extent of the Saudi involvement, realizing the potential damage it could cause to the delicate Saudi-US relationship. For a half-century, the two countries have had an awkward marriage - critics say tryst is a better word - of convenience.
The United States gets relatively affordable oil and a troop presence in the Middle East, and the Saudis get US weaponry and forces for protection in one of the world's toughest neighborhoods.
To keep the glaring spotlight of Sept. 11 deflected from Saudi Arabia, the kingdom denied many Western journalists visas until recently. For those few who were able to get in the country during the weeks after Sept. 11, the government restricted access to the region where the hijackers lived. People who spoke to Western reporters have been detained by Saudi officials, and for that reason many of those interviewed for this series spoke on the condition of anonymity.
After months of denying that there were any Saudis involved in the hijacking, the palace only last month officially acknowledged that 15 of the hijackers were indeed Saudi. But the monarchy continues to dismiss any notion that Al Qaeda could have been operating and recruiting inside the kingdom.
Now, through rare interviews with family members of several of the alleged hijackers, as well as friends and local Muslim clerics who knew them and accounts from a southwestern Saudi newspaper, a picture of the suspects is beginning to emerge along Highway 15.
Frustrated dreams end at controls of Flight 77
The road to the southwest begins outside of Mecca, and 30 miles south is Taif, an unexceptional backwater. Here, down a tree-lined side street in the upscale Al Faisaliyah neighborhood is the sprawling two-story villa of the Hanjour family, prominent landowners and merchants.
This was the home of Hani Hanjour, 29, one of the hijackers who US investigators believe was piloting American Airlines Flight 77 when it crashed into the Pentagon. He is believed to have been the only pilot among the Saudis. The rest were accomplices in the hijackings and referred to by investigators as "the muscle." At the gate of the family compound, several Sudanese servants said they had been instructed to tell Western reporters the family would have no comment. Hanjour's friends and former classmates from the neighborhood did offer insights, but as they were doing so a local Muslim cleric from a nearby mosque arrived with several large, bearded men and demanded that a Globe reporter leave.
Later, Hanjour's brother, Yasser, agreed to speak briefly on the phone and offered the outlines of the life of one of the hijackers. Based on these conversations, Hani Hanjour emerges as a frustrated young Saudi who wanted desperately - but never succeeded - to become a pilot for the Saudi national airline.
The Saudi carrier required Saudi pilots to be FAA-certified in the United States. (This, Saudi officials point out, explains why so many Saudis were in US flight schools. Since Sept. 11, the Saudi regulation has been changed.)
So Hanjour went to the United States in 1999 and received his certificate, but came home and still couldn't land a job with the airline.
His frustration at failing to get the job he dreamed of derailed him for nearly a year, his friends said. He spent hours online at a family-owned Internet cafe. He read voraciously about piloting, and increasingly turned his attention toward religious texts and cassette tapes of militant Islamic preachers.
In December 2000, he obtained a visa from the American consulate in Jeddah and arrived in the United States, according to US officials. He lived in an apartment in Patterson, N.J.. and in June 2001 was practicing on a flight simulator in Phoenix, then took a flight lesson in August at Freeway Airport in Bowie, Md. All of this was leading up to Sept. 11, when US investigators say he commandeered Flight 77 shortly after it took off from Dulles Airport in Virginia.
Further down the road is the Al Baha region where a cluster of three more hijackers came together. Ibrahim, a local Muslim cleric who knows the families and who spoke on condition that only his first name be used, said the young man at the center of a triangle of youths was Ahmed Al Haznawi, 22, one of the hijackers who was aboard United Airlines Flight 93 when it crashed in rural Pennsylvania. He was from the village of Hezna and his father, Sheikh Ibraham Al Haznawi, was the head of the mosque in the old marketplace of the town. The Haznawi family is a branch of the large and respected Alghamdi tribe, which numbers as many as 200,000.
The Muslim cleric who knew the family said that Al Haznawi had come to his father in late 1999, seeking permission to go to join the jihad in Chechnya. His father refused, and explained to his son that jihad, which translates roughly as "the struggle," has many different meanings, according to the Koran. His father encouraged his son to pursue what he described as "the higher form of jihad," the personal struggle to be a good Muslim and not to follow the "military calling of jihad."
Al Haznawi left without his father's blessing in the year 2000, telling friends that he was going to Afghanistan to train at Al Farouk Camp before going to Chechnya, where volunteers fight with Muslim rebels against Russian troops. It is not clear if Ahmed ever went to Chechnya, but he did return to Al Baha in 2000 during the holy month of Ramadan. He met with his family and, his friends say they believe, sought recruits from his own Alghamdi tribe, and played off tribal loyalties to bring two distant cousins from villages near the southern town of Beljurashi - Ahmed and Hamza Alghamdi - into jihad. They were both among the hijackers on United Airlines Flight 175 when it crashed into the south tower of the World Trade Center.
Al Haznawi provided them with militant pamphlets and the cassette tapes of well-known radical Saudi preachers - such as Eid Al Guerney and Hamoud Al Sheiby - railing against the United States and Israel and calling for young men, as part of the "ulema," or Muslim nation, to defend the faith ''wherever it is under attack," as Guerney put it. Hamza, 21, and Ahmed Alghamdi, 26, were both drawn in.
Hamza was easily lured, his friends said, since he was stuck in what was seen by Saudis as a humiliating job working as a stockboy in a housewares shop. He asked his father, a religion teacher in a local school, for permission to go fight in Chechnya and, according to friends, the father reluctantly agreed. Hamza disappeared sometime around February of 2001, his friends said, only calling his parents in July. He refused to say where he was but, the cleric said, he asked his father "for forgiveness and prayers."
Ahmed Alghamdi is believed to have used a connection to the Red Crescent Society, an Islamic relief organization, to help pay for his journey into the jihad, a local charity official said. But the official said it was never clear if that would take Ahmed to Chechnya or to Afghanistan - it was all kept secret.
Vince Cannistraro, former head of the CIA's counter-terrorism office and deputy station chief in Jeddah from the mid-to late-1970s, said that the southwest was the nexus of recruitment for the Saudi hijackers.
"From everything we can gather, there was a circle of clerics in the southwest connected to bin Laden who served as spotters, and found these young men," said Cannistraro, who runs a Washington-based consulting firm on international terrorism and has received briefings on the investigation.
Cannistraro added that although they may have been told in Saudi Arabia they were being recruited for Chechnya, they were actually being selected for Al Qaeda.
Taking various routes, the Saudis were "directed toward Peshawar and from there into Afghanistan for training," he said. Specifically, he added, they appear to have congregated at Al Qaeda's Al Farouk Camp near Khost where they were selected by Al Qaeda leader Mohammed Zein Abu Zubaydah for the Sept. 11 operation and began months of training in weapons, indoctrination, and theological interpretations of sweet rewards in the afterlife for martyrs.
Saudi Interior Ministry officials have detained for questioning an undisclosed number of suspected militants in the southwest, but they insist there is no clear picture of a network of recruitment, or one person who ties all the suspects together. They believe, and US authorities tend to agree, that even if the recruitment did take place in the southwest, that the development of the plot could not have happened inside Saudi Arabia.
FBI investigators feel there are still ''a lot of blind spots,'' as one US intelligence source put it, in developing definitive profiles of the hijackers and how they interconnected prior to their arrival in the United States - in part because the Saudis have not yet thoroughly investigated the network that links the Saudi youths. While Washington has officially said that the Saudis have been cooperative, US investigators on the case continue to be frustrated by Saudi "foot dragging," as one intelligence source described it, and an interpretation of Islamic law that the Saudis say prohibits non-Muslims from interrogating Muslims on Muslim land.
"It doesn't look like they're doing much, and frankly it's nothing new," said James Kallstrom, the former assistant director of the FBI in charge of the New York office and now director of New York's Office of Public Security.
Kallstrom - who experienced firsthand the frustration FBI agents had with the Saudis in the first World Trade Center bombing investigation and later with the 1995 bombing of a US-Saudi military facility in Riyadh and the 1996 bombing of the Khobar Towers US military barracks - said: "It's been common knowledge that we have not gotten much help from the Saudis."
Adventurers recruited for suicide mission
Al Watan, a new and popular newspaper based in Abha, has pushed the boundaries of government restrictions on the media here by assigning reporters to chase leads on the hijackers, and developing profiles of them. Al Watan's editor, Qenan Al Ghamdi, and several of his reporters said it appears that "clusters" of hijackers, like the one in Al Baha, formed a pattern. They came together in small groups to join up for jihad - apparently unaware of where it would take them. The groups were in towns strung along Highway 15 in Taif, and Al Baha, and especially in the province of Asir, where cells formed in Abha and Khamis Mushayt.
Al Ghamdi said Al Watan's reporting revealed the suspected hijackers as "middle-class adventurers" more than Islamic fundamentalist ideologues. This made them perfect recruits, Al Ghamdi said, to be later brought into Al Qaeda, most likely when they were in Afghanistan training. And, at least according to bin Laden, they were then unwittingly brought into the Sept. 11 strikes.
On the so-called "home video" of bin Laden that was released by the US government in December, he painted a picture of the young Saudis as low-level soldiers, saying, "The brothers, who conducted the operation, all they knew was that they have a martyrdom operation and we asked each of them to go to America, but they didn't know anything about the operation, not even one letter. We did not reveal until ... just before they boarded the planes."
The Egyptian leader of the hijackers, Mohamed Atta, left behind a letter in a suitcase found at Logan Airport, which Jerrold Post, a former CIA specialist on profiling terrorists, said indicates the men knew they were on a suicide mission.
The letter, apparently intended for the Saudi hijackers, said, "Be calm and resolute young man, for soon you will be going to paradise."
US and Saudi officials say they believe bin Laden exploited the Saudis, paying particular attention to their tribal backgrounds, and convincing them that they would be making their tribes proud in the jihad against America. On the videotape, bin Laden pointedly boasts of the names of the tribes, repeating the name Alshehri seven times, and also the Alghamdi and Alhazmi tribes on several occasions.
Bin Laden knew that selecting these families from the southwest would send a message to the monarchy and the "Naj'dis" - elitist families from the center of the country who savor their connections to royalty and tend to look down upon the southwest's tribal culture as primitive. US and Saudi officials suggest that bin Laden was letting that elite know he had deep support in the southwest for his jihad against the United States. But more ominously for the palace, the sources add, bin Laden was letting it know he had support for his oft-stated desire to dethrone the House of Saud, because of what he sees as its corruption and its treasonous ties to the United States.
Mohammed Al Zulfa, a member of the Shura Council, the 120-member body hand-picked by the monarchy to represent the 13 regions of Saudi Arabia, is from Asir province, where at least four of the alleged hijackers came from. Al Zulfa said that the tribal angle is "very important to understand" the southwest.
He explained that the tribes here were not historically Wahhabi - a puritanical Islamic school of thought founded 250 years ago by the Muslim cleric from which it takes its name. Wahhabism was foisted upon the tribes and has been interpreted in a particularly harsh and unforgiving way in the southwest.
"It looks as if he [bin Laden] very carefully chose from the leading tribes to say, `This is not only me against the House of Saud and the US, but that it is also the new generation of these tribes of Saudi Arabia that has joined his fight ...' America has very little understanding of the importance of this, and the intention that is behind it," Al Zulfa said.
A region linked to other acts of terror
There were other reasons that officials say they believe Al Qaeda focused in on southwest Saudi Arabia for its recruitment for the Sept. 11 operation.
Not least among them was its "wild West atmosphere," as one US official described it. A particularly porous and lawless border with Yemen has allowed Al Qaeda to come in and out of Saudi Arabia without detection for many years, US and Saudi officials say.
In fact, there is mounting evidence, the officials add, that the southwest was a nexus of not only recruitment for the Sept. 11 attack, but also the facilitation of the October 2000 bombing of the USS Cole in a Yemen port which killed 17 American sailors, as well as the 1998 bombings of two US embassies in Kenya and Tanzania that killed more than 250 people.
US officials confirmed that the rubber skiff with an aluminum frame which was used to transport the bomb that ripped a hole in the Cole was purchased in the Saudi port of Jizan and then smuggled into Yemen. And, the plotters behind the attack are believed to have escaped through Yemen into Saudi Arabia, the officials add. Similarly, US authorities say they believe the Yemen-Saudi border was most likely where aspects of the planning for the bombings of the US embassies in Kenya and Tanzania occurred. It's also the area through which those linked to the plot are thought to have escaped.
The southwest provinces - especially Asir, the last of the formerly autonomous fiefdoms to be brought within the kingdom in the early part of the 20th century - are a pocket of economic neglect compared to cities like Jeddah and Riyadh.
Those cities have been lavished with petrodollars that brought gleaming shopping malls, skyscrapers, pleasant residential areas, and wide, well-kept boulevards that pulsate with neon lights above shop windows. The southwest was largely passed over during the boom years in the kingdom in the 1970s.
Resentment at the shrinking Saudi economy by the young people within a forgotten middle class is felt throughout the country. Because newly discovered reservoirs of oil have reduced oil prices globally, per capita income has plummeted in Saudi Arabia from $28,000 a year in current dollars in the early 1980s to below $8,000 today, according to Saudi government statistics.
As a result, young Saudis with university degrees find there are no jobs, or certainly not the kinds of jobs they want. Some officials estimate unemployment for college graduates under the age of 30 at upwards of 30 percent. The Saudi population is soaring with one of the highest birth rates in the world, which analysts say makes certain that the problems will worsen. Saudis under the age of 25 represent nearly 70 percent of the population. These economic and demographic problems have affected all of Saudi Arabia, but the southwest is by far the hardest hit, economists here say.
Prince Khalid, the falconer, poet, and painter who rules as the local governor for the House of Saud, has tried to develop a tourism industry centered in Asir. He is viewed by some as a despot who has bullied local landowners and often taken their holdings. Others say Khalid is a benevolent local monarch who has done his best to help the region.
But most agree that the prince's vision of the southwest as a center of tourism has created only service-sector jobs which just about all Saudi citizens see as beneath them.
The development of five-star hotels, amusement parks and concert venues, accompanied by a cool breeze in the high elevations of Asir, have drawn the wealthy royal and merchant families from other parts of the kingdom here, and only served to increase the sense of resentment and frustration among the more middle class locals.
US investigators say bin Laden sought to exploit this reservoir of discontent in the southwest in part by playing off his personal family connection to the region. He is known to have often evoked the memory of his late father who loved the area and frequented it since the favorite of his several wives was from there. The patriarch's birthplace was just across the border in Yemen, where tribal affiliations run strong. In fact bin Laden's father died in a 1967 plane crash over Asir province when he was surveying his beloved Highway 15 project.
Saudi officials say the road that winds through the southwest - even with all its history and its culture of disaffected youth and its connections to the hijackers - can never lead to definitive answers as to why 15 young men from Saudi Arabia decided to take part in the worst terrorist attack on US soil.
"You can go to the southwest and drive up and down, and come up with theories on who these 15 young people were," said Adel Al Jubeir, a senior adviser on foreign affairs for the palace. "But in the end they are 15 individuals out of 16 million Saudis. They do not represent a trend in Saudi Arabia, any more than David Koresh represented a trend in Christianity, or Tim McVeigh represented a movement in America.''
Al Zulfa, the Shura Council member from Asir, agreed. "The road can tell you about the anger that is out there, but why these 15 people were led to do something like this has no answer," he said. "All you can say is that it has nothing to do with Islam."
Tomorrow: Teaching intolerance
This story ran on page A1 of the Boston Globe on 3/3/2002.
Before oath to jihad, drifting and boredom
, by Charles M. Sennott, Globe Staff, 3/3/2002

HAMIS MUSHAYT, Saudi Arabia - At dusk in this nondescript town of modern strip malls and newly built housing blocks, the Seqeley mosque was bathed in a warm, inviting green neon light as worshipers gathered for prayers on a recent evening.
The Seqeley mosque was built as a gift to the town by a branch of the prominent and respected Alshehri tribe known as the Seqeley family, construction firm owners who worked closely with the late building magnate Mohammed bin Laden on the winding highway that cuts through the middle of Hamis Mushayt.
It was in this mosque that four young Saudi men - two brothers from the Seqeley family known as Wael and Walid Alshehri and their friends Ahmed Alnami and Saeed Alghamdi from nearby Abha - are believed by several friends and a local cleric to have taken a solemn oath to go and carry out "jihad."
Friends who knew them say they gathered in the mosque in the spring of 2000 to pray and meditate in an informal ceremony that bound them to jihad and, if necessary, to die in the defense of Islam. In the months that lay ahead, they began secretly slipping away from their families.
Eventually, they were swept into Osama bin Laden's Al Qaeda terrorist network, and US investigators say they were among the Saudis who hijacked four jetliners on Sept. 11.
* * *
Mohammed Seqeley Alshehri, the father of Wael and Walid, is a tough and uncompromising man who refused to speak to a Globe reporter. But his son Abdel Rahman, 40, one of Wael and Walid's 15 brothers by Mohammed's four different wives, invited the reporter into the family home, which sits across from the mosque. The father and son were returning from evening prayer, and the father was thundering against the Western media in a room inside the home. But Abdel Rahman served tea in a ''majlis,'' or reception room, at the front of the sprawling house.
"You have to understand my brothers were not Islamic purists" began Abdel Rahman, who lived with his brothers in the family compound. "They were young, they were bored, and we have no idea what happened to them."
"To be very honest, neither one of them was very smart, nor very motivated to do anything," said Abdel Rahman. "All of this is impossible for us to believe."
He explained that his father had built the local mosque and was a devout Muslim who refused his sons any link to modernity, for within the strict puritanism of the Wahabi school of Islam these things are strictly forbidden: No satellite TV. No Internet. No music. And definitely no girls until they were old enough for an arranged marriage.
The Alshehris are a military family with three older brothers who hold high rank at the nearby airbase. Their uncle, Major General Faez Alshehri is the logistical director of the kingdom's armed forces. The base - from which the United States staged some of its airstrikes on Iraq during the Gulf War - was attacked in August 2000 by a lone gunman believed to be a follower of bin Laden. The gunman killed a Saudi guard and wounded several British workers there.
Wael and Walid did not serve in the military but were steeped in the family lore of service to the Saudi Air Force, and Wael was a physical education teacher at the sprawling airbase. US investigators have said they believe Wael may have had flight-simulator experience.
The two brothers' personalities were a complex Saudi mosaic. They were devout, but they also smoked Marlboros, cruised Web sites at a local Internet cafe, and liked pop music.
A turning point came late in 1999 when Wael, 25, fell into a deep depression, Abdel Rahman said. His friends say it was not just depression, but perhaps even a suicidal tendency, and he was forced to take a leave of absence from his work as a gym teacher. He went to see a faith healer in Mecca accompanied by Walid, 21, who was ''just drifting in life,'' his brother said. It was at this point that the two apparently fell under the sway of a militant Islamic cleric who counseled both to read the Koran, to fast, and to take up jihad.
Sometime in the late spring of 2000, they disappeared and their family did not know where they went, Abdel Rahman said. Friends said they believed the two went to Pakistan and then on to Afghanistan where they were given hand-to-hand combat and light weapons instruction at the Al Farouk training camp. They returned to Saudi Arabia in December 2000 and boasted to friends about their experience.
Through the family mosque and perhaps through militant circles, the two men befriended Ahmed Alnami from the nearby town of Abha.
Alnami, 23, was distinctly middle class. His late father had been an employee of the Ministry of Islamic Affairs and Endowments, and he was the youngest of six siblings.
Alnami played the oud, a traditional Arabic guitar, and had a good singing voice. He would gather with high school friends for bonfires in the wind-swept park atop Souda, the highest point in Saudi Arabia, and make them laugh mimicking the Saudi pop star Mohammed Abdou. He was fond of smoking apple tobacco in a ''nargilla,'' a traditional waterpipe. The music, the singing, the smoking all would have been frowned upon as un-Islamic by the men in his family.
Then in the summer and fall of 1999, Alnami began a rapid change, becoming obsessively pious after returning home from a Saudi-government sponsored religious summer camp. One friend said that his family feared that the sharp turn in his behavior was a ''bipolar disorder.'' He grew a beard, he shunned his old friends, he stopped playing music. His sweet voice now was used to call the faithful to prayer at the Al Basra mosque in Abha, and occasionally at the mosque in Khamis Mushayt, where he is presumed to have met up with the Alshehri brothers.
When Alnami saw his old friends in Abha, he tried to steer them away from ''those practices that are evil,'' as he put it, and toward ''the right and true path of Islam.'' He entered King Khalid University's School of Islamic Law, long regarded as a hotbed of Islamic fundamentalism, and it was there, his friends believe, that he delved deeper into militant circles. Apparently he befriended another young Saudi named Saeed Alghamdi, who was also from Abha.
"He just drifted away from us and it was like we had lost him," said a high school classmate who works at a publishing company as he stared at old snapshots of Alnami.
When the Alshehri brothers, Alnami and Alghamdi gathered at the Seqeley mosque in the spring of 2000 and made their oath to commit to jihad, friends say the informal ceremony was led by Wael Alshehri, who had assumed a nom de guerre of "Abu Mossaeb al-Janubi." Abu Mossaeb was the name of a close friend of the Prophet Mohammed who gave up everything to follow his teaching. "Al-Janubi," means "of the south."
This meeting was talked about among the groups of men in their 20s who have little to do but gossip on the streets of Khamis Mushayt and Abha. There were also boasts of the involvement of "sons of Asir" and references to the ceremony at an online chatroom at www.alsaha.com, a popular Web site, according to two Saudi academics who closely monitor the site.
Amid all the conflicting accounts and sketchy information about the hijackers, what is certain, according to US investigators, is that the two Alshehri brothers were on board American Airlines Flight 11 when it left Boston and crashed into the north tower of the World Trade Center. And their friends Alnami and Alghamdi were both on board United Airlines Flight 93 when it left Newark and, apparently after a struggle inside the plane, plummeted into Stony Creek Township, Pa.
DRIVING A WEDGE
Saudi schools fuel anti-US anger
By Charles M. Sennott, Globe Staff, 3/4/2002
Second of three parts

BHA, Saudi Arabia - At the Islamic Law department here at King Khalid University, students line up to buy cassette tapes and printed pamphlets from militant Islamic clerics whose sermons burn with anti-American sentiment and "fatwas," or religious decrees, declaring holy war against infidels.
At a public high school in this provincial town in the southwest part of the country, 10th-grade classes are forced to memorize from a Ministry of Education textbook entitled "Monotheism" that is replete with anti-Christian and anti-Jewish bigotry and violent interpretations of Islamic scripture. A passage on page 64 under the title "Judgement Day," says: "The Hour will not come until Muslims will fight the Jews, and Muslims will kill all the Jews."
These two vignettes offer a glimpse inside an education system in Saudi Arabia that US diplomats, academics, and some Saudi education officials suggest is fostering a volatile mix of intolerance, rote learning, anti-Western bias, and a religious call to duty too often misinterpreted as holy war.
US and some senior Saudi officials seem to agree that the education system needs reform and that the control the kingdom has given to the fundamentalist Wahabi religious institutions to shape it needs rethinking. But the more divisive question between the awkward Saudi and US allies is what role the system itself may have played in shaping the beliefs of Osama bin Laden's followers -- specifically the 15 young Saudi men who joined his Al Qaeda network to carry out the Sept. 11 attack on America. These Saudis comprised 15 of the 19 hijackers who seized control of the four planes which crashed into the World Trade Center, the Pentagon, and rural Pennsylvania.
King Khalid University and the Abha public high school are set along the road that winds through the provinces of Saudi Arabia's southwest, a region from which 12 of the 15 Saudis came.
Several of the young men attended the university and were, friends and family say, known to have recently tapped into the militant Islamic culture fostered by the tapes and pamphlets of clerics such as Eid Al Guerney and Safar Al Hawali, both of whom come from the southern province of Asir, and whose sermons often dovetail with the preachings of bin Laden.
Virtually all of the young hijackers would have attended the often rundown and overcrowded public schools in the southwest where the 10th-grade textbook on monotheism authored by another hardline Muslim cleric, Sheikh Saleh Al Fawzan, was routinely used.
But the tapes of Al Guerney and Al Hawali or the textbooks of Al Fawzan are not unique to the schools of southwest Saudi Arabia. The tapes and pamphlets are available throughout the kingdom, and the textbooks are a standardized part of the national curriculum.
US diplomats and Saudi specialists say Saudi schools are the foundation of the broader society in which the House of Saud has for decades tolerated extremists within the religious hierarchy to set a tone -- in schools as well as on national television and radio airways -- of open bigotry toward non-Muslims, contempt even for those non-Sunni Muslims from other branches of the faith such as the Shiite, and of virulent anti-Americanism.
This, US and Saudi observers here say, has been part of an unofficial deal: The kingdom gave the religious establishment control of the schools as long as it didn't question the legitimacy of the monarchy's power. The United States went along with this tacit agreement as long as the oil kept flowing, its troops stayed in the country, and the House of Saud remained on the throne.
The deal has spawned a society where the call to "jihad" in the fight against the Soviet occupation of Afghanistan, and later alongside Muslim rebels in Bosnia and Chechnya, has been promoted as adventurous and heroic. Youths have been encouraged to go and fight not just by extremists, but by clerics who exist within the religious establishment.
In addition, the charitable networks that fund relief in Afghanistan, Bosnia, and Chechnya, and which are often conduits for volunteers to fight there, are frequently headed by boards of directors that include members of the most respected Saudi families. This was the door of entry to jihad for most of the 15 Saudi hijackers, officials say, and once in that door, the path they chose led to Al Qaeda.
Ali Al Ahmed, the Saudi-born executive director of the McLean, Va.-based Saudi Institute, a nonprofit organization that promotes tolerance and human rights in Saudi Arabia, is set to release a report this month that will offer a scathing indictment of the religious hierarchy's dominance over Saudi education, and the impact it has had on Saudi society.
There is a method of teaching that "manipulates messages of Islam" to call for fighting jihad against "the enemies of Islam," Al Ahmed said. The complexity and shades of meaning of concepts such as jihad, which literally translates as "struggle" and can be interpreted as a personal struggle to be a good Muslim, is often lost, he added.
For example, the teaching on jihad is often "fused with lessons on current events of Israelis shooting Palestinian children and babies dying in Iraq because of US sanctions," Al Ahmed said. Then, "Saudi kids are just set out on a path of thinking, `OK, those are our enemies,' and in some rare cases they take action.
"The system has got to be more careful with what it is teaching, who is teaching it, and how it is interpreted," said Al Ahmed, who is from the Shiite branch of Islam and particularly concerned about what he calls "wrongful" teaching about this minority sect within the kingdom. "The schools, and other activities like the religious summer camps the monarchy sponsors, contribute to attitudes that shape young people.
"Bin Laden and these hijackers are all products of this," he said.
Saudi officials insist the 15 Saudi hijackers are nothing more than a handful of extremists from the furthest fringe of a population of 16 million. "Al Qaeda is a tiny cult, not a movement," as one palace official put it.
But the same officials do not deny that there appears to be widespread support for bin Laden's ideas among youth inside the kingdom -- a fact that alarms them since bin Laden calls for the monarchy to be overthrown. As he sees it, it has "desecrated the land of the Two Holy Mosques" by allowing "infidel" US military forces to be based in the country.
Said Al Harthi, senior adviser in the Interior Ministry, confirmed that officials were surprised that the ministry's own targeted survey of several hundred educated people between the ages of 25 and 40 found that 90 percent of the sample expressed support, on some level, for bin Laden.
But Al Harthi points out that the survey was taken in November at a particularly emotional time when Saudis were watching television images of the US bombing in Afghanistan and feared massive civilian deaths.
"That did not indicate support for bin Laden's cause as much as a rejection of the US bombing," said Al Harthi.
Still, in interviews with dozens of young Saudis throughout the kingdom, it was common to hear students articulate not support for the attacks on Sept. 11, but certainly agreement with bin Laden's tirade against American support for Israel, and against the US military presence in Saudi Arabia. Many viewed bin Laden as a folk hero, and seemed indifferent to the fact that the terrorist strikes had killed nearly 3,000 civilians, including hundreds of Muslims.
In Riyadh, a 20-year-old engineering student at King Saud University who would give only his first name of Salem, offered a common point of view. Sitting at a McDonalds at the Al Faisaliah Mall, a shopping center catering to Saudi's elite, he said, "I support bin Laden because he is standing up to America. If you ask every young person here you will hear the same. America allows Israel to kill Palestinians and no one says anything. At least bin Laden does."
Salem was wearing a UCLA baseball cap with a classically American fold to the brim and a Ralph Lauren polo shirt. Asked if he had ever been to the United States, he replied, "No, my brother studied there. But I'd love to go. It's a great country. Do you think it's still possible for us to get visas?"
This disconnect -- young people trashing the US and singing the praises of bin Laden, but still admiring the opportunities and freedom that America offers -- proved common through two weeks of interviews around the country.
A mutual reluctance to ask tough questions
The US-Saudi relationship has always been a perplexing one filled with inconsistencies, and a reluctance by either side to ask too many uncomfortable, searching questions of the other.
But in the bitter aftermath of Sept. 11, Washington is beginning to ask at least some questions about the kingdom's education system and the religious establishment that plays such a role in shaping Saudi youth.
"This is a problem. It needs to be dealt with, and the place to start is the schools," said Edward Walker Jr., president of the Middle East Institute, a Washington-based think tank. Walker has had several diplomatic postings in the Middle East including Saudi Arabia from 1984 to 1987; and he has served as the US ambassador to Egypt and Israel.
"There has been a tendency to blame Wahhabism, but it is a mistake," said Walker, referring to the puritanical stream of Islamic thought to which the House of Saud belongs and which it fosters throughout the country.
"Just because they are fundamentalists does not mean that they are prone to anti-American sentiment or to terrorism. The problem has been how these ideas are communicated within the schools by the teachers.... It is also because the economic decline in the kingdom has resulted in fewer students studying abroad, and the youth are becoming more insulated, and less worldly, resistant to modernity, and so their Islamic identity becomes directed in an anti-Western way.... The youths involved in Sept. 11 would have to be looked at in that light."
Amid increasing US calls for reforms after Sept. 11, the Saudis are reexamining their education system.
The debate has become intense in recent weeks inside Saudi Arabia, with deep theological and pedagogical lines being drawn over how best to revamp the system, and the hardliners sharply criticizing the movement as a Western plot to undermine the Islamic purity of the state.
The hottest issue for the Saudi reformers is not the anti-American sentiment, but rote memorization of Islamic texts, which they argue is producing a generation with little capacity for critical thinking and taking time away from the development of other skills needed to keep pace with the technological age.
A case in point: On a recent afternoon at the Al Darrah public school in Abha, the religion teacher, Abdel Karim, 35, was calling on students to recite from memory the teaching of the night before. It was a two-hour lesson on the restrictions pertaining to hunting during the hajj, or pilgrimage season.
He asked questions, and the students shot up their hands and dutifully repeated the passages word for word from the textbook. It didn't matter that none of the children had ever hunted, or that none of their fathers had. It was thought that the value in the lesson was to memorize what they were told, not to apply the religious teaching to their lives.
"They approach teaching on the Koran and its messages as if it was the 7th century, as if time was suspended," Ali Ahmed said. "And that's why you get not only these exercises in absurdity, but also wrongful and dangerous teaching on the call for jihad."
Education Minister Mohammed bin Ahmed Al-Rasheed, who has led the call for overhauling the schools and moving away from rote learning of the Koran, recently complained the education system was producing "parrots."
But Al Fawzan, author of the controversial 10th-grade textbook on monotheism and one of the staunchest religious conservatives in the education system, has blasted the advocates for change.
Al Fawzan declined to be interviewed, but in a Feb. 11 article in the Saudi newspaper Al Jazeera, he reflected the venomous tone behind this debate.
"The Jews and Christians and the polytheists have shown their heartfelt hatred and try to prevent us from the true path of God," Al Fawzan wrote, according to a translation from the Arabic. "They want to change our religion and our teaching to disconnect us from Islam so they can come and occupy us with their armies. It is bad enough when it comes from the infidels, but worse when they are of our skin. They say we create parrots, but they are the real parrots repeating what our enemies say of Islam."
Saudi education officials insist they began this overhaul at least three years before the Sept. 11 attacks.
Khaled Al Soultan, deputy minister for higher education, said that his ministry is about to release a long-awaited study on the education system that will recommend changes. But he said that the rapid growth of Saudi Arabia has to be factored in to any criticism of the system, and cautions against Western arrogance, noting, for example, that Christian fundamentalism has preached its own brand of intolerance.
At least 65 percent of the Saudi population of 16 million (not including the six million foreign workers in the country) is under the age of 25. A nation with one of the world's highest birth rates is putting almost unbearable strain on its entire education system.
Al Soultan complains that the recent criticism of Saudi education often overlooks considerable successes, including a literacy rate that in just two generations has gone from as low as 25 percent to over 90 percent today. The monarchy, he said, has also developed a massive and heavily subsidized higher education system. In 1970, a handful of universities graduated 2,500 students a year, and now campuses across the country graduate 200,000 annually. Tuition is free for Saudi citizens and stipends are provided for textbooks and meals and housing.
While there are many graduates, more than one third cannot find jobs despite their degrees. Many of those who do are unsatisfied with the position.
"We have been struggling, yes," Al Soultan said. "But to say that our education system somehow contributed to those hijackers who boarded the plane is outrageous."
Still, Washington and Middle East observers have connected the failings of the education system to what some believe is a surging reservoir of anger, alienation, and intolerance among Saudi youth. And it is undeniable that since Sept. 11, the reform debate on Saudi schools has flared dramatically.
US diplomats are actively urging change, but also worrying that if they push too hard for what even many Saudis acknowledge are much-needed reforms the moves will be attacked by the religious establishment, painted as American colonialism and therefore doomed.
"We have to tread carefully here," said one Western diplomat.
US played a role in rise of fundamentalism
It would make sense for the United States to be part of the solution, critics say, since it was clearly part of the inception of the problem. The history of the United States supporting Islamic fundamentalism goes much deeper than just the CIA involvement in Afghanistan.
Since the late 1960s, the United States at points encouraged, and at other points did nothing to contain, the fundamentalist clerical establishment's monopoly on the school system, according to Saudi education specialists.
In the 1970s, when profits from the oil boom were being turned to building an education system, a fundamentalist curriculum was seen by the United States as favorable in the Middle East context of the Cold War. God-fearing Muslims were preferable to godless communists, as the thinking went in Washington. America even encouraged the Saudis to import teachers from Egypt, Sudan, and Syria, including members of Islamic movements such as the Muslim Brotherhood and radical clerics such as the blind Egyptian Sheikh Omar Abdel Rahman, who would later be convicted of coordinating a foiled terrorist plot in New York City. It was an approach that some in favor of change suggest infected the education system with a virus that has now overtaken it.
In the '80s, the United States again sought an alliance with the Saudi fundamentalists in its proxy war in Afghanistan against the Soviets. It was not just the CIA that was funneling billions of dollars to the Muslim resistance, or "mujahideen," to fight the Soviet occupation of Afghanistan. It was also Saudi Arabia that was matching the US funding. Bin Laden's involvement as the leader of Arab volunteers in the jihad in Afghanistan began at this time.
The Soviet defeat in Afghanistan presaged the collapse of the USSR, but the United States and the kingdom still chose not to challenge the religious hierarchy in Saudi Arabia because of the critical role it would play in allowing the United States to use Saudi Arabia as the staging area for its war against Iraq. After the war was won, thousands of US troops stayed on in Saudi Arabia, and again the United States did "very little to rock the boat," as former Ambassador Walker put it, because Washington wanted those troops to stay there.
Mohammed Al Zulfa is the representative from Asir on Saudi Arabia's 120-member Shura Council, a deliberative body handpicked by the monarchy. An advocate of change in education, Al Zulfa said: "We were politically naive. We knew we didn't want the communists teaching our children, but there was a threat we didn't think of that was growing -- a hijacking of our own faith.
"But I have a question for you. Throughout all those years, where was your government, your CIA, in telling the government of Saudi Arabia that this direction needed to be stopped? Isn't that what a friend is for, to tell the truth, to give good advice?"
Tomorrow: The strained US-Saudi relationship
DRIVING A WEDGE, Doubts are cast on the viability of Saudi monarchy for long term,
by Charles M. Sennott, Globe Staff, 3/5/2002
Last of three parts
IYADH, Saudi Arabia - A classified CIA report undertaken after the Sept. 11 attacks on the United States depicts the ruling House of Saud as a fragile monarchy facing instability in the long run, according to senior US intelligence sources.
The document does not predict a near-term crisis, but paints a picture of the monarchy as dangerously ''isolated,'' and expresses ''serious concerns about long-term stability,'' said one source, who was consulted on the report by its authors and was recently briefed on its conclusions.
Palace officials in the oil-rich kingdom and some Saudi experts dismiss such predictions, saying similar assessments have been made before and have consistently been proven wrong.
But now, with US-Saudi relations at a crossroads after the terrorists' strikes, a growing number of former and current diplomats, federal investigators, and intelligence officials say that Washington has for too long ignored deep problems in the kingdom that, if unattended, will threaten vital US interests by leaving a key ally in the Middle East vulnerable.
The core issue, they say, has been the monarchy's partnership with the fundamentalist religious establishment. The puritanical Wahhabi clerics provide the palace with its legitimacy to rule, but in return they are permitted to rail against the West, with some firebrands among them openly calling for ''jihad'' against ''infidels'' (read America) in mosques, schools, and the public airwaves.
The House of Saud - the 30,000-member ruling family headed by 3,000 princes - has long been so riddled with corruption that even Crown Prince Abdullah has said the culture of royal excess has to come to an end. It has ruled over the kingdom with documented human rights abuses and, as one Western diplomat put it, a form of ''gender apartheid'' for women. Democracy has never been part of the equation.
These palace indulgences have been tolerated by Washington for far too long, critics say, because of a US policy dependent on Saudi Arabia's vast oil reserves, Riyadh's purchase of an estimated $4 billion a year worth of US weapons, and its pivotal role as host to 5,000 American troops.
Since Franklin Delano Roosevelt agreed a half century ago to defend the kingdom in exchange for ready access to oil, the balance between US interests and US ideals in Saudi Arabia has always tipped in favor of Washington's economic and strategic interests.
"No one has wanted to rock the boat," said Edward Walker Jr., the former assistant secretary of state for Near Eastern affairs and the former deputy chief of mission at the US Embassy in Saudi Arabia.
"It's time to recognize that they [the monarchy] have a problem. If they don't expand their base beyond the royal family and recapture their education system, they are in serious trouble," said Walker, now president of the Middle East Institute, a Washington-based think tank. "I don't expect the corporate world to take up the lead for women's rights in Saudi Arabia or even for democracy. But I do expect our government to do it."
Added James Woolsey, the former CIA director: "The Saudi monarchy has had a bargain with the Wahhabis - if you leave us alone, we will help you set up mosques and radicalize young people to your way of thinking. Well, it is a bargain that is not in our interest. That deal, and what it produced, deserve a very large part of the blame for September 11th."
Woolsey said the United States has for too long played what he described as "realpolitik" in the Middle East, allowing American business interests, predominantly big oil companies, to "cloud thinking" and to shape US policy.
"We need to put pressure on Saudi Arabia to change, but we will not have the leverage to do that as long as we have a reliance on them for oil. We have to diminish that reliance," said Woolsey. "This will allow us to change our approach and think about bringing democracy. That is going to make people like the Saudis worry. Well, I say let them tremble."
Diplomats and analysts in Riyadh and Washington say this is precisely the strain Saudi exile Osama bin Laden sought to put on the awkward US-Saudi alliance when his Al Qaeda network recruited 15 young Saudis to be among the 19 hijackers who crashed four planes into the World Trade Center, the Pentagon, and rural Pennsylvania.
One of the unavoidable truths after Sept. 11, they add, is that the attacks did, in fact, succeed in forcing the United States and Saudi Arabia to question - with unparalleled intensity - the terms of their partnership.
"All I can think is that Osama bin Laden is smiling when he hears Washington talk like that," said one high-level palace official in Riyadh, referring to Woolsey's criticism.
Washington's rethinking of its relationship with Saudi Arabia has required US intelligence officials to reassess the stability of the kingdom.
The recent classified study was ordered by the CIA's Directorate of Intelligence, said one intelligence source, soon after Sept. 11, amid criticism within the CIA that a full-blown ''National Intelligence Estimate'' on Saudi Arabia had not been done for several years.
The roughly 25-page document was completed approximately a month ago and is being circulated at the National Security Council and the State Department.
The report describes the House of Saud as an ''anachronism'' that is ''inherently fragile.'' One intelligence source said that ''serious concerns about long-term stability'' of the country are based on strains within the kingdom caused by a steadily shrinking economy and a rapidly growing population.
''The House of Saud is depicted as `the boy in the bubble,''' said the source, quoting a phrase used in the report. ''What that means is the kingdom is too isolated and too coddled. It has become an entity that requires insulation from the biogens in its environment because if it were exposed to them it would become deathly ill.''
He said the kingdom is left insulated by a clerical establishment that wants to drag the country backward, and is too far removed from a relatively liberal, more educated merchant class which is impatient to advance the nation democratically, but is given no means to express its views.
The report also expresses concern about the future succession of the crown among the gerontocracy that is the House of Saud. King Fahd, the nominal head of the royal family, suffered a stroke several years ago. His half-brother, Crown Prince Abdullah, is effectively running the country and is widely assumed to be the next king. But Abdullah, thought to be 78, has not made it clear who his successor would be.
The ''path of least resistance,'' as one intelligence source said, would be to name the next half-brother in line, Prince Sultan. But palace watchers say Abdullah sees Sultan, now minister of defense, as the embodiment of a culture of corruption that Abdullah wants to end. Abdullah is therefore leaning toward a younger brother, Prince Salman, who is in his early 60s. The report states that squabbles over the looming succession could ''cause real strain within the kingdom,'' one of the intelligence sources said.
A CIA spokeswoman, Anya Guilsher, declined to comment on the existence of the report, saying, ''We have not issued anything publicly of our analysis of Saudi Arabia.''
The report has been met with anticipation in Washington, where previous attempts by the CIA to delve into the stability of Saudi Arabia have been discouraged by one administration after another. The concern has always been that a leak of such a report's contents could undermine the world's oil markets. Intelligence sources add that powerful energy companies have over the years convinced Washington that it was not worth the risk to be too probing in its analysis of the House of Saud.
"It has long been the diplomatic equivalent of 'Don't ask, don't tell,'" one former diplomat in Saudi Arabia said.
Pessimistic assessments, such as the CIA report's, about the long-term stability of the kingdom have almost always been met with skepticism by those with a stake in US economic or strategic interests here.
"I don't buy it, and history will not bear it out," said Frank Anderson, who was chief of the CIA's Near Eastern Division until 1995 when he became vice president of Foreign Reports, Inc., a Washington-based firm that offers political analysis of the world's oil markets.
"People have been predicting the collapse of the House of Saud for decades," he said. "OK, the situation isn't ideal, but it is more stable now than it has been in any time in the past. I think all of the trend lines are going in their favor, not against their favor."
A persistent criticism of US policy by some diplomats and reform-minded Saudis, is that it has for too long been shaped by a relationship of the corporate and government elites of both nations. Critics say this cozy partnership of elites has perilously ignored a surging disaffection among youth in Saudi Arabia, and a puritanical Wahhabi clerical establishment that has channeled that anger toward the West.
The calculation by the House of Saud has been that as long as the anger was directed at the West, then it was deflected from the ruling monarchy.
Dr. Abdoulah Al Fawzan, an associate professor at King Saud University and host of a popular radio talk show on the Middle East Broadcasting Company, says that the anti-American rhetoric - even when it is crudely expressed as support for bin Laden - should not be taken too seriously, that it must be seen as a kind of "pressure valve" that releases internal tensions.
"The leaders use the emotion of the Palestinian issue to direct all of that anger outside against America and Israel, rather than allow it to be turned inside against the Arab regimes. That is true. I could get in trouble for saying that, but it is true," he said.
The United States does little to question this, critics say, because it wants the House of Saud to survive for its own economic interests. This tolerance of the militant fundamentalists - their charity networks and calls for "jihad" in Afghanistan, Bosnia, and Chechnya - goes back many decades and served America's interests in the Cold War when fundamentalists were seen as a bulwark against communism.
But now Washington seems to be questioning the wisdom of that policy since the 15 Saudi hijackers emerged out of the milieu it produced.
"They have been playing with fire in doing that.... I think you'd have to say it was a mistake to allow [Riyadh] to do it," said James Akins, a former ambassador to Saudi Arabia in the 1970s.
To Adel Al-Jubair, a foreign affairs adviser to Crown Prince Abdullah, criticism of Saudi Arabia in the US media has been unfair, adding, "Everyone could have done more. That is true of the United States, and of Europe, especially Germany. ... There were failures everywhere on this. We all should have seen it coming."
Business, government lines blurred by money
The lines between America's most powerful corporate interests and Washington powerbrokers have long crossed in the Saudi sands. The kingdom's vast oil wealth has brought the Saudis political access and leverage in Washington. And top former US policy makers and defense officials have often left their posts and gone on to reap enormous profits for themselves and the corporations they joined by trading on their personal connections to the kingdom.
A prominent Saudi professor of political science at one of the country's leading academic institutions, said, "Your policy with us has been shaped by your elite and our royalty. It is a dialogue which reflects the Middle East culture, but not the American culture. This has been tolerated in Washington because it is good for the American political and corporate elite, the arms manufacturers and the oil industry."
The professor, who spoke on condition of anonymity because he said such candor can cost academics their positions, and perhaps even a jail term, added that the policy, "is tolerated here because it is good for the Saudi elite, the royal family, and the merchant families who profit from their connections to the palace. But it is not good for the Saudi people. And they have grown to hate America for it.... I think after September 11th you would have to say it is not good for the American people either."
When discussing where American power and Saudi money come together, one corporate name frequently emerges - the Carlyle Group. It is a Washington-based investment firm that specializes in buyouts of defense companies and so-called ''offset deals'' which facilitate the global arms trade. The group, which holds an estimated $12 billion in a wide range of investments, is chaired by former secretary of defense Frank Carlucci. Its senior counsel is former secretary of state James Baker, and former president George Bush is paid to consult on its behalf. Defense industry watchdog groups say Carlyle has profited handsomely by trading on the influence and contacts of its powerful employees to get a portion of the roughly $4 billion a year that the Saudis spend on US-manufactured defense systems.
These men who once shaped US foreign and defense policy now travel to the kingdom facilitating business deals and investment strategies. According to the Wall Street Journal, they have in recent years made visits to the Saudi Binladen Group, the multibillion-dollar construction empire from which Osama bin Laden inherited his fortune. When bin Laden's citizenship was revoked by the Saudi government in 1994, his family disowned him. (Carlyle announced it would be ending its business relationship with Binladen Group in late October.)
Charles Lewis, director of the Washington-based, nonprofit think tank the Center for Public Integrity, a sharp critic of Carlyle, said, "Carlyle is a case study of a foreign policy that too often reflects commercial concerns at the expense of the policy concerns of the country."
Lewis has also been critical of what he calls a "glaring lapse in judgment" by the Bush administration to permit the ''appearance of conflict of interest'' that arises in having Bush's father representing one of the leading defense firms in the country.
Chris Ullman, vice president of communications for Carlyle, dismisses such allegations as baseless, saying the elder Bush "has said he never discusses business related to Carlyle with his son."
There are other prominent examples of where Saudi money meets American power in the oil fields. Halliburton, the Texas-based oil-supply business formerly headed by Vice President Dick Cheney, has several subsidiaries operating in Saudi Arabia. The Saudis also awarded $25 billion in gas and infrastructure projects this summer to three consortia dominated by US firms and led by Exxon Mobil Corp. The deal culminated many years of lobbying by US oil giants, who have been assisted by Republican and Democratic administrations alike.
Both nations' needs keep image makers at work
The increasingly strained US-Saudi relationship presents a daunting challenge for Washington's post-Sept. 11 public relations campaign to push the American point of view more clearly in the Middle East. The effort is being headed by Charlotte Beers, who has been named undersecretary of state for public affairs and public diplomacy.
Beers, a former Madison Avenue executive who once marketed Uncle Ben's rice, is now being asked to market Uncle Sam's ideals. How hard can she sell America's brand of democracy, human rights, and freedom of expression in Saudi Arabia?
After all, this is a place where Bibles are strictly banned. Public executions and floggings are still held in town squares. The monarchy has stifled - at times brutally - any dissent. Women are not provided official identity cards, not permitted to drive, or even to leave the country without a man's permission. Such Wahhabi strictures are enforced by the "mutawaa," or religious police.
Not only is the kingdom resistant to change, but the "ulemma," the clerical establishment, would see many US concepts as heresy to Islam. So Beers's campaign for American values has high stakes - possibly, some analysts say, even toppling a kingdom that holds 25 percent of the world's available oil and provides the US military its primary base in the Middle East.
Critics of Beers, of which there are many in the Middle East diplomatic corps, observe with irony that in her first trip through the region she avoided Saudi Arabia. Beers declined to be interviewed for this article.
The Saudis, for their part, have employed small armies of public relations firms for decades to manage their image in the United States.
The New York-based public relations giant, Hill & Knowlton, has had a 17-year history of involvement in the kingdom, and maintains a corporate office in the port city of Jeddah. The company has long been at the nexus of Washington power and Saudi money. For example, Pentagon spokeswoman Victoria Clarke was general manager of Hill & Knowlton before joining the Bush administration.
Howard Paster, Hill & Knowlton's CEO since 1994 and the former head of the Clinton White House's Office of Legislative Affairs, traveled earlier this year to the Jeddah Economic Conference. There he announced that he had secured a contract with the massive Saudi Basic Industries Corp., an account that he described to the Financial Times of London as "a nice, big piece of business." But Paster insists that Hill & Knowlton's involvement with the Saudis has been "greatly exaggerated" and that the Saudi piece of the company's more than $300 million in annual revenue is "only a fraction."
Paster, who has become something of a legend in the public relations business for plain speaking, said in a telephone interview from New York, "The fact is Saudi Arabia has got to explain to the American people that those 15 [hijackers] don't represent the Saudi attitude to the US.... The burden is on them to do that."
When asked about the Washington culture of quietly avoiding confrontation with the Saudis because of oil and other strategic interests, Paster said, "People aren't going to shut up after September 11 and that's good news. Friends tell friends when things aren't right."
As Washington rethinks its relationship with the Saudis, it has already put pressure on the kingdom to change. Some observers feel this pressure produced the Saudis' recent vague, but perhaps important, peace initiative in the Israeli-Arab conflict.
The United States has expressed interest in the Saudi offer as a way to break the cycle of violence and perhaps get the two sides negotiating again. Many diplomatic observers suggest that the Saudis only moved now because they knew, as one senior intelligence source put it, that the United States was ''fed up with the kingdom'' after Sept. 11.
F. Gregory Gause III, a specialist on Saudi Arabia at the University of Vermont, cautions Washington not to shift its policy toward Riyadh too abruptly, or out of anger over Sept. 11. He defends the current US approach toward the kingdom, saying, "Personally, I would say our hands-off policy has been better than any alternative. Drastic political change could go very badly for us. We might end up, and the Saudis might end up, with a worse regime.
"It all depends on what you think our foreign policy should accomplish, or can accomplish," Gause said. "The truth is the more democratic the Saudis become, the less cooperative they will be with us. So why should we want that?"
This status quo has dominated US-Saudi relations for more than 50 years. Ever since FDR first cemented the relationship, the only US president to ever directly challenge the kingdom was John F. Kennedy.
In a 1962 meeting with former King Faisal, Kennedy presented a plan of reform that demanded an end to the kingdom's practice of slavery and a start to participatory democracy, civil rights, economic transparency, and freedom of speech.
"The only thing that has changed since Kennedy is that they have ended slavery," said Said K. Aburish, author of "The Rise, Corruption and Coming Fall of the House of Saud."
Anderson, the former CIA official-turned oil industry analyst, strongly disagrees, and said the success of the Saudis has been "slow and deliberate modernization."
"The fact that we are talking about women's right to drive, and not slavery, says a lot. The measure of their success has to be made within their own context of time and space," he said.
Anderson said the best way to understand Saudi Arabia is to liken it to a large oil truck navigating one of the steep, winding roads in the northern reaches of Asir province in southwest Saudi Arabia. The United States has been in the passenger seat making sure it is braking and downshifting.
The challenge of the kingdom has been to "ride the brake," Anderson said, to keep it from going out of control as Iran did in 1979 when the monarchy there pushed to hard and too fast for modernization and sparked the Islamic revolution.
"It is a very big truck going down a very steep grade," he said, "and everyone understands the need to be very careful."
______________________________________________________________________________________